Thursday, October 18, 2007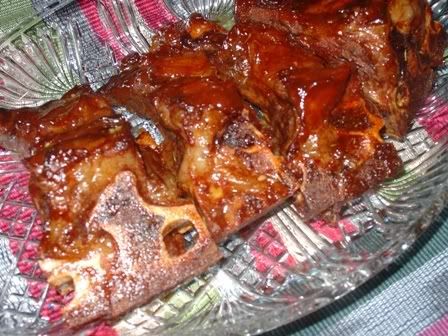 Here's what I prepared for dinner. They requested me to do this since it is very expensive if you eat this at diners. They said it tasted good (as usual, I'd go on strike if they say otherwise, harhar) and can compare to the ones being served at Fridays. Hmmmm, my lovedones know how to make me happy. Anyway, here's the recipe, sorry but no measurements again, I usually taste the marinade, and from there I adjust according to my taste.
Baked Beef Ribs
beef ribs
marinade:
white vinegar
dark soy sauce
honey
worcestorshire sauce
A1 steak sauce
Hickory Smoked Sauce
sugar
thyme
catsup
mustard
Baste beef ribs with marinade and put in the freezer overnight. If you can wrap it individually with foil, the better. Make another set of marinade when you are ready to bake the ribs. Saute onions and garlic in butter, then pour the marinade and let boil for a while. This is what I used for basting every 15 minutes while baking. You can use this as sauce too. For the 1st hour, I baked the ribs wrapped in foil and the remaining 1 hour without the foil. Serve with garlic rice. YUM!