Tuesday, July 20, 2004
I got a call from my yaya (nanny) saying that my son JOSH needed to bring (a) butterfly egg (b) caterpillar (c) pupa (d) adult butterfly (the complete stages of METAMORPHOSIS) to school tomorrow...WHAT??? where the hell will i be getting all those???... so i was forced to drive to this butterfly farm, only to find out that they don't sell all four stages...i was able to buy only the pupa and the adult butterfly...not bad...better than nothing...so that means my son won't be getting a grade of 0 (zero)...

I couldn't drive fast, scared that the pupa will fall off, coz it was pinned to a styro (that's how they do it in the farm...insert a pin through the silk, with a two pin support)...you know how the roads are in Manila (Philippines)...potholes left and right...

I'm just wondering whether my son can witness the four stages of metamorphosis...i hope he does...what with all the bother that the parents went through looking for those stuffs...otherwise it will not serve its purpose...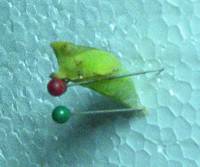 pupa