Monday, August 23, 2004
Today is our 12th Wedding Anniversary...but Nelson had work...so i had a date with my kids instead...i asked my son if he could treat me to dinner since their dad is not around...why josh in particular? it's because you can't get him to spend...he's a little stingy you know...but since it was our anniversay, he decided to spend for the dinner (did i give him a choice here? ;-) ...since he is the one spending, i made him choose which restaurant...and he picked TGIF...but i suggested Jollibee (ala McDonald's) coz i know it could get way beyond his budget (knowing him...hehehe), but he insisted on TGIF...so off we went to TGIF...while waiting for our food to be served, instead of the kids coloring (they give out coloring sheets)...this is what they did...

Wisi reading a Harry Potter Book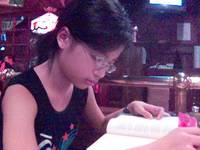 and Josh too



now it's slowly sinking in...my kids are all grown ups (trying hard)...coloring doesn't interest them anymore...

Finally food is served...

Chicken fingers with fries for the grown ups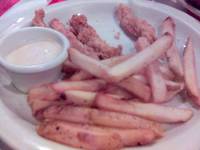 Caesar salad for the mom



buffalo wings, fried mozzarella, and potato skins still for the mom



and Josh wanted me to blog about his favorite chocolate shake...with his super duper OA smile...





...after we finished eating, Josh asked for the bill...and when it came, he asked for his wallet, but the yaya forgot to bring it...and he gives me this kind of look...this is what i get for teasing him...





so i told him that i'll be the one to pay instead, and when we get home he can pay me...so he took a look at the bill so that he would know how much he owed me...and guess what? he didnt like to pay the whole of it (as expected)...all he could give is just 500 pesos (i knew it)!!! oh...poor mom!!!


while i was away getting the car...he asked his yaya...how much do we spend if we ate at Jollibee instead? and the yaya said something like 300 bucks...and he goes...we should have gone there instead...and he even told the waiter...your food is expensive here...so there goes my cute lil JOSH again, not afraid to say his piece!!!