Sunday, November 07, 2004
It was Ate Marie's birthday...another excuse to eat out and get stuffed really...haha...we had dinner at Edsa Shangri-la Hotel and tried their buffet...geez it was really very tempting to eat and eat, what with all the food scattered everywhere...but NO, i had discipline that night (did i?)...wait til i get comments from my two companions...hehe...but really...i guess YES!


It was fun...we kinda stayed long there...you know...stories in between eating...you know how it is when girls go out...never ran out of stories to tell...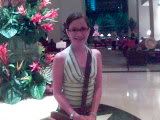 With Ate Marie (the girl in black) and with Nancy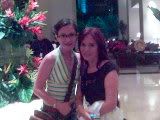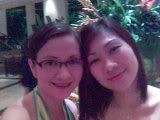 After dinner, we went to starbucks...i ordered my fave drink which is hot caramel macchiato...i noticed that something was wrong with the taste (i know the taste by heart)...was even able to pinpoint what was lacking (espresso shot)...so i went back to the counter and told them that...and you know what they did? they just added a shot of espresso...i was really fuming mad already, expecting them to change the drink...so what i did, i went back to the counter and told them that if they're not gonna change it, i'll just have to order again and pay...oh man!!!what happened to these people...to think i was a regular there...or maybe even if i wasn't, they should have done what was just right...