Friday, February 25, 2005
i got a sms from my dentist confirming that indeed i have tmj disorder...so today i went to her clinic to discuss the treatment...a year to correct my tmj disorder and 2 years of braces...that long? she gave me time to think about it...weighing the pros and cons...i decided to have it treated...so i'm gonna see her tomorrow...


am i ready for this?
ooooooooooOOOOOoooooooooo
i haven't had nail art of late...good thing i had all the time in the world to do it...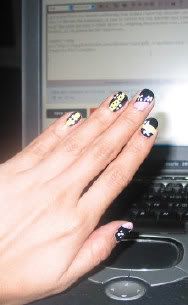 with blogger as background...cool