Saturday, March 19, 2005
We started the day visiting our dentist...Patricia had her braces checked...Joshua on the other hand was checked on the progress of his trainers...They were both in the right track...I had my share too, dentist had to do some resurfacing on my splint and a little adjustment, which caused a headache, my first eversince i was treated with my tmj...i'm going to see her again tomorrow to make some more adjustments as it really causes discomfort.

In the afternoon, we went to World Trade Center for the 10th Worldbex, to scout for some stuffs for the house we're constructing. I found the mosaic tiles i soooo wanted for our bathrooms in different funky colors...definetely im getting it...and i can't wait.

Then we proceeded to Cuz's house for Kuya Rey's birthday dinner...we had some miscommunication here...original plan was dinner. I didn't get Cuz's SMS that they changed it to lunch instead...she even left a message in my comments section, which i wasn't able to read too...
Anyways, since we were headed to Tomas Morato and they were there too, we decided to meet at Pho Hoa and had dinner there...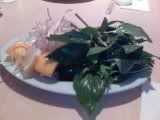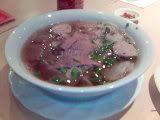 it's just unfortunate that i didn't enjoy my food because of the extended headache i had...tsk, tsk...too bad! Thanks Cuz for the treat...
HAPPY BIRTHDAY KUYA REY!