Tuesday, March 22, 2005
Everytime our doorbell rings, i always get excited as i'm expecting a mail from one of my blogfriends Leigh. And it came today...yipee!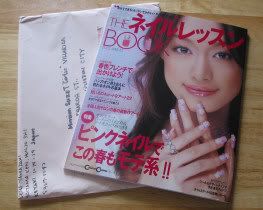 she read in one of my posts that i was into nail art
I haven't met her in person, but it seems i did...we exchanged a few emails, even IMed each other. I get the same feeling with my other blogfriends, do you?
Happy Birthday Leigh!
I'm supposed to be the one giving you a present...but what a coincidence...i got a present instead from you on your birthday. Thank you so much, i really appreciate it.
May all your dreams and wishes come true. May our good Lord always grant you good health and strength.