Friday, November 07, 2008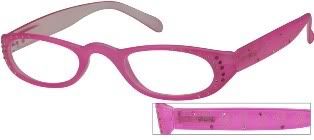 When I first heard about it, I was like "No Way"! $8 for an eyeglasses? You must be kidding. But yeah it's true,
Great Eyeglasses For Less
. And they are from Zenni Optical. A lot of people are talking about it and
Zenni Optical was on FOX news!
You really need to check out all their stuff...there's just a lot to choose from. For sure, there is one frame that would fit the shape of your face. Check out the
Variable Dimension Frames From Zenni
too. It comes in chic styles and cool colors, and don't forget, you might be able to get it at $8.